This is not clickbait, you are not about to watch 3 free videos then jump into some sales funnels. This is the real thing.
This is the most advanced digital marketing tutorial in the world and it is 100% free
Aren't you tired to listen to some people claiming that this stuff is groundbreaking, game-changing, like The 7 SEO Secrets Most Advanced. You watch it and you're like okay dude what's next, because I didn't see anything advanced or game-changing.
Even if you are not interested into digital marketing just watch until the end, whatever industries you're in, you might be interested.
Today I invite you to see how a marketer who started his career in 1994 can do something a little different.
For years I wanted to take on this challenge and people think I'm crazy but in reality it's about not having regrets, if I don't do this I'm gonna regret it, I know it.
SEO High-Level
I will teach you the high level mindset and in the meantime I'll show you the work deep down in the dirt: how do I do this, how do I do that, how can I talk the walk and walk the talk at the same time.
Here is the solution I came with.
Follow me on my journey over building the best website for Google SEO.
1. The SEOConspiracy podcast, Youtube & Audio
I'm going to deploy, I'm going to explain step by step the most advanced digital marketing and SEO tutorial in the world.
It's gonna last one year minimum. It's a one to five year plan and we're gonna go break down every single step one by one.
I gave out the whole SEO, Semantic SEO layer before in this video: Semantic SEO in 10 Steps.
There I compressed 15 hours of teaching into this two hours so it's short and long at the same time.
Now, we're gonna go wide and we're gonna do the whole nine yard.
I have the best Content Marketing Strategy combined with the safest Black Hat SEO Technique ever.
Once again, if you just publish some content and wait for some divinity to make everyone interested in it and bring you links from everywhere, you can wait.
You do have to do some promotion
Black hat seo is not illegal
It's not against the law, Google guidelines are not the law.
But, even if we ever get caught I have the solution. Having a manual penalty for links is not the end of the world, we can get out of it in less than 7 days.
I started in marketing in the early 90s, 1994.
While I was doing my studies in New York, I did an internship at Cartier the French luxury goods company, in the headquarters in NYC. So I officially started in 1990.
In college I had my first entrepreneur experience. It was the first time I understood the law of offer and demand: the students wanna party? I'll do it. But differently than what they already had.
It's the same with Google. You have to feed it what it wants and not what it already has.
In 2004 I got into SEO and started from the black hat side, I have no shame to admit it.
I'm a search engine hacker and a search engine hacker is different from the black hat who just takes on somebody else's findings and uses it to make money
I cracked the code, I went inside the matrix and figured out wtf does Google want. It took me exactly three months of working 20 hours a day, seven days a week, during SEO contests.
And I got it, I know what and how to feed the beast
I know what does Google want and since then I've been reinforcing my SEO layer and
I was the first one to talk about Semantic SEO. I explained my whole theory to my fellow french people in 2012.
Strategy called the Topical Mesh in English or the Cocon Sémantique in French.
So 2012 is the official starting point and for the time it was pretty groundbreaking.
It actually became the number one strategy in France, one of the best practice.
Search & Marketing on Social Medias
After Google I moved on into YouTube, then Facebook, then Twitter, Instagram, Twitch and even TikTok. It's all the same thing
I figured it out and now I can see what other people's don't see, I understand all of those platforms.
Of course, it took me a lot of time, like tens of thousands of hours but I got it.
With all of those platforms, the problem is that at first, they comes out with a great spirit of doing something good and then like one and a half year later, a marketer is coming and it becomes different, to just stay polite.
But remember:
If it's not illegal, it's legal in marketing. All you have as a judge is: can you look at yourself in the mirror, are you okay with what you're doing?
My value, my life & my career have been about being truthful for the worst and for the better. Sometimes, it took me down some rabbit hole that I wish I didn't went into but, that's part of the game, too.
The idea for SEOConspiracy emerged because we wanted to do some myth-busting to tell the truth, about all those urban legends, about all
those lines about all those myth that carry on year after year in SEO.
I want to provide you value, the real things
I'm about to take on a very difficult challenge but if I don't do it I will regret it, I know that.
Please do not think "it's impossible, the dude has something to sell".
No, I won't monetize with ads, online courses or whatever.
I don't have anything against the short-term gain but I don't want to do it here, this is not what it is about.
Yes, I do have a couple of tools to sell and you can hire me as an SEO consultant but besides that there is no hidden agenda.
In marketing some people sell dreams,
Other make you dream.
Guess where do I belong.
What I've been doing my entire career is giving everything without asking anything back and it worked well.
I don't know what's gonna come out of this, all I know is that if I go until the end it's gonna work and something good is gonna come out. What? I don't know yet and I don't even know if I'm gonna succeed.
I might fail or quit, we'll see.
How to Match Offer and Demand
I am the best at reconciling the offer and the demand. I can complete the full circle using all the tools we have at our disposal.
Technical, content, popularity, on page, in-site, off-page, off-site.
I can tell you that my thing works, my solution does work, I have the track record to prove it but I'm not gonna show you clients testimonials nor analytics charts nor my bank account.
I will show you in real-time what I'm doing and how I build this strategy.
What I'm about to teach you is not the semantic siloing or topical clustering.
It's a complete strategy from Content Marketing to Black Hat SEO
We build a strong SEO layer that we integrate into content marketing and then we put a twist, the icing on the cake, with a very smart, very qualified and not risky Black Hat SEO strategy.
I'm gonna give you all the tools, all the assets you need, the skills to achieve the best results.
The only question mark is: do you have the means, is it worth it to go after that keyword, do you have the resources, time and/or money. But, other than that, the mechanics is really obvious.
I figured it out, it's not hard. Well, it is hard you can't pretend to be first on a very competitive keyword without doing anything. If you don't have time and/or money, no, I can't help you and nobody can.
I hope you know that the best ideas don't do anything. Action is required. The worst enemy of SEO and digital marketing is not doing anything.
Why the Topical Mesh works?
I started thinking about it 2004, applied in 2007 and gave it out for free to my french peeps in 2012.
A hundred thousands of people applied it and I was like "do whatever you want with it". Then some developers raised the finger and said "Hey, we understand what you're doing we like it, let us help out".
So we started to build some amazing tools and now we have the most advanced semantic analysis tools in the world, and that's for real, you can check them all on FrenchTouchSEO, where I present the whole Cocon Sémantique / Topical Mesh family.
We've been so far ahead of the world. Nobody was talking about Semantic SEO besides me in 2012.
So I tried to break it down into very simple steps you can follow even if it comes from scientific stuffs like algorithms, scientific papers and patents. I had to read all of them so don't worry, I've done the job for you 🙂
The Most Complete SEO & Digital Marketing Strategy Ever
When I released the Topical Mesh in 2012, maybe it was just about Google SEO.
Today, it's 360°, the game of search happens all over the place. I don't
care if it's on YouTube, Facebook, Tik-Tok or some other platforms more or less searchable.
Twitch isn't the best for search but I still figured out a hack, nobody is saying about how to grow on Twitch but it's right in front of
everybody and no one knows it and if they know, they don't tell.
I know how and what to feed Google search engines and any social media platforms
I can explain to you the mechanics, I can explain to you how it works.
The only question mark left is do you have the means and also maybe are you creative, are you good enough? That's also maybe a question mark, but not that relevant actually because even if you are not the most creative person on earth, you can still achieve success it will work and you will find your public.
My strategy is also very interesting because everybody can do it, even if you won't do the black hat SEO part, even if you don't do the content marketing part. Even if you just do the Topical Mesh, the best semantic SEO layer, you will win, you will get results.
I'm giving you the best formula for you to rank on the top keywords, on the most competitive keywords to win the game of attention, to also become an authority in your industry.
You'll have to work on popularity, notoriety and authority.
That's what I call the traffic in 3/3 and I like my pie to be 3/3 almost equal and that requires.
To get out of just the SEO in itself, you need to do everything around SEO.
If you want to build Authority, if you want to build a brand that people are going to type the name of the website in Google or in the address bar.
Notoriety is not about getting links for PageRank; it's about getting high value qualified traffic.
This two will impact the Popularity, the part of organic search in your traffic pie.
Do you have a traffic pie that looks like perfect 3/3 or not?
Like this one: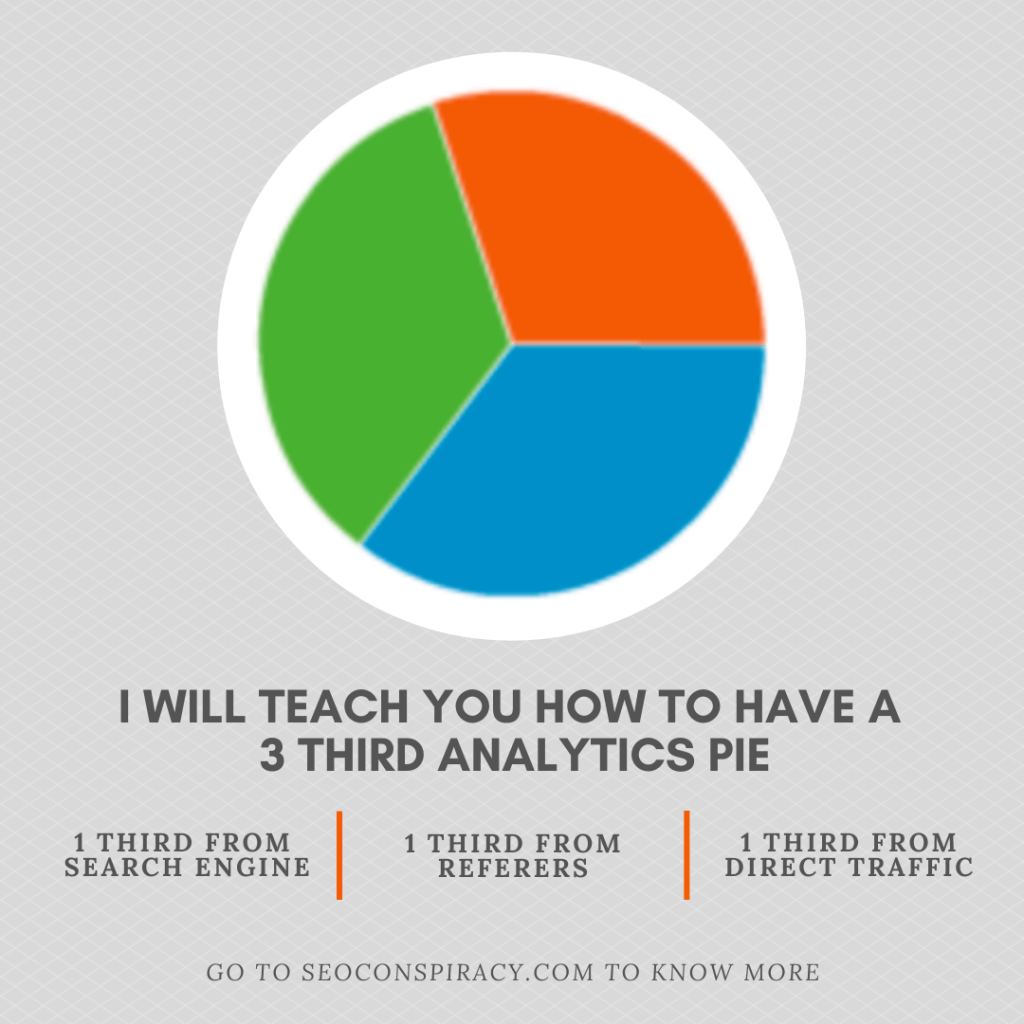 Everybody can do it, it's for everyone. Maybe you won't apply it right now but you will understand and it's gonna click. One day you'll figure it out and hopefully you remember me that day.
Join the adventure – Real-time Topical Mesh building
I will deploy, I will explain step by step in 52 episodes, in one year, once a week, the Topical Mesh; the Most Advanced Digital Marketing strategy with the Most Advanced SEO tutorial in the world.
To follow my journey about building this perfect website, you can subscribe to my newsletter .
In real-time, you will observe, you will spy on me doing the work.
I'm gonna share this only via email because I like the intimacy, I like to think that this is a moment we're going to spend together.

A moment where I'm going to disclose everything and hide nothing.
Also, this way, you can jump in anytime you want and if it's like week 48, you will still be able to start from the beginning.
Of course, t's more interesting if you start from the beginning with me because you'll be able to follow my process and actually do it in the mean time.
If you do apply my strategy in the same time than me and you do the work step by step at the same time, that would be wonderful, that would be the most amazing thing.
I'm gonna lay out the strategy to be the number one, the authority on the most competitive, the most challenging topics.
My world is Search, I do Search only and I'm all about Search: paid, organic, on social media, on YouTube, on Google, wherever in real life. If people search I want to be there and search is the best out of all the pipelines and of the entire game of winning the attention of your potential customer.
Search is the best for one single little detail which is called intent; user intent. If people search, they are in a different mindset than if they are hanging out on Facebook or watching videos on YouTube and you blast them your ads.
If you are in search mode, you are already into the information funnel; where you spend 60% of the time gathering information, 30% of the time evaluating/comparing and only 10% of the time you are into conversion.
Understand that 90% of the path is not about making the sale, it's about helping out, it's about bringing answer to questions, it's about giving solutions to problems.
Once you go down to the 10% where you get into the conversion funnel, if you were helpful all the way during the 90% of the time that person is interested into something, well, you've got a big advantage.
Your concurrents are in a very different mindset they are about converting: buy or leave. They do not take care of the user.
You need a Solid SEO layer
Who are you talking to: your buyer persona, your customer journey all that stuff. Then, who are you? SWOT analysis and many exercises will help you understand what you are selling really, beyond the product. What is the benefit? What is your Why.
Mindmap: build a mindmap of your content, the content strategy build on the buyer persona. You first put yourself in the shoes of your target and you think about what is that person gonna ask, what is the person looking for.
We put the offer back onto the demand. That's the What and then you think about the How.
On page: you will understand semantic SEO with mystery word game I don't know anything simpler than that and that's all you need to know.
Black hat seo: it's not illegal, I don't care if Google agrees or not but you have to control some of your links, like 1/4 or 1/3.
So yeah, we're gonna do all this so please, do not hesitate to subscribe to the newsletter, I'm not gonna spam you and you will be able to unsubscribe whenever you want.
Thank you for your time, have a good day.
---
Listen to the podcast
Watch the video
Latest posts