Microsoft levels up the fight against deepfake and fake news
New Steps to Combat Disinformation by Tom Burt, Corporate Vice President of Customer Security & Trust and Eric Horvitz, Chief Scientific Officer
Deepfake and fake news are a big problem, and the technology that Microsoft Research is putting forward is trying to detect deep fake and whatever might be affected. I don't know if it's working very well. All I know is this is good.
It's a big problem, and tech companies need to invest in this fight because things like fake news or deep fake are getting very scary. I don't know if you saw the deep-fake video abilities of today, but it's impressive. Way to go, Microsoft!
The Blurred Lines and Closed Loops of Google Search
The Blurred Lines and Closed Loops of Google Search by Brian Barrett
It's not the best article I've read on Wired, which is still a magazine I like to buy on the paper version, and even if the item itself is not that interesting, the topic is pretty much very relevant because what's the deal? Well, the value is that the line is getting blurrier between what is ads and what is organic on a search engine result page.
Google is guilty of this kind of behavior, and don't be mistaken; it will only be blurrier; we won't go backward.
It's a problem because it's misleading. Someone invented the term dark patterns, I don't know if it's that, but whatever you want to call it, I get it manipulation, I get it misleading tactics. These two must be separated, and since day one with Adwords and Adsense, the line was already very blurry. I've done a lot of Google Adsense since the beginning of the program. I stopped circa 2008 but, trust me; I did everything I could to make the ads look like not ads so
I plead guilty, but I'm a tiny player here. I was making a couple of bucks; I'm not Google or Bing.
Google is rolling out virtual business cards in India
By Manish Singh on Techcrunch.com
Not a big news but pretty fun.
If you want to have a personalized virtual business card by Google, you can use a VPN and login to your google account. Then you look up your name on Google search, and it will prompt a new option called "add me to search" or "get started."
Will you give it a try?
Structured data around home activities just appeared
On the official developers.google blog: New structured data for home activities to help people discover activities they can do from home.
It's pretty much every relevant nowadays with the situation we are living in.
If I can give you a bit of advice, try to always stay up to date with this feature. It's the kind of stuff you want to follow, maybe not daily, but here, I try to keep up at least weekly with whatever is happening with structured data.
It's big; you need to pay attention to that because you are losing a lot of opportunities if you don't use it. The more we will go in time, the more we will advance, and the more this will become essential.
Gary Illyes, from Google, answers a question about Core Web Vitals as a ranking factor
Thread on Reddit: Will CWV (Core Web Vitals) be the primary factor for Organic Traffic?
First of all, here is the answer of our dear Gary Illyes, from Google:

So, it's something like page speed, and all these mandatory elements of what makes a good website would become the top ranking factor.
This is the way I would put it: that's not a ranking factor as far as bonus points. If you have a good website that is fast with good user experience and so on, it's just doing your job. You don't get any bonus points for that.
However, if you are bad, if your website is too slow, that might be a de-ranking factor. Are you following me?
The ad_storage tag in Google Analytics and Google Tag Manager.
Google News Update: GA and GTM Cookie Consent on Reddit.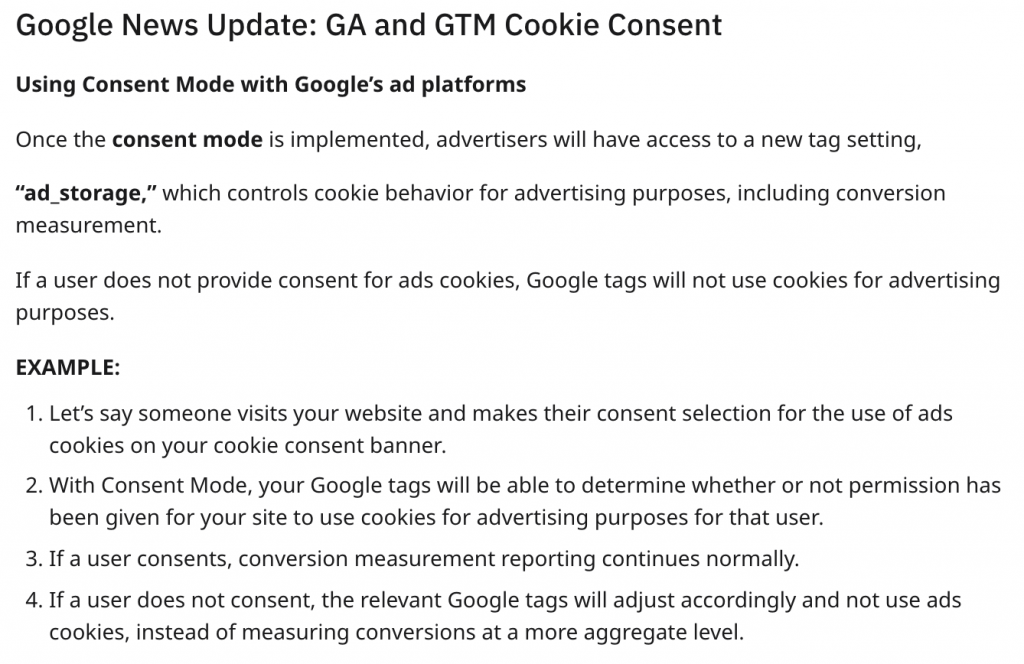 ad_storage controls cookie behavior for advertising purposes, including conversion measurement.
I didn't find any other official news about this & it's kind of weird.
If a user does not provide consent for ads cookies, Google tags will not use cookies for advertising purposes. So, ad_storage feels very important. Is it a real thing? I'm just giving it to you like it is; I did a few searches & couldn't find anything more about it.
So if you know anything, please tell me!
A funny list of 5 so-called Google competitors is published.
On Eu-startups.com : 5 European Google competitors to watch
First of all, the title is not the right title. Google competitors, Google killers, that's just buzz words that have just clickbait.
Those building search engines today are alternatives and want to do something different. They don't want to compete with Google, they want to serve somebody looking for something else, whatever it is.
So the article is listing:
So, what's left? Qwant and Mojeek. Of course, you have Baidu in China, and you have Yandex in Russia, but as far as Europe goes, Mojeek and Qwant. Duckduckgo is not a real search engine; it's using Google's index. It isn't easy to do a real search engine. Mojeek & Qwant are prime examples of how difficult it is today to, from scratch, crawl the web and have its index. It's a huge technical challenge; I don't think you have a clue about how big the web is and how fast it's going.
Amazon is playing a dangerous branding game with Twitch, around music
On Techcrunch.com: Amazon brings Twitch's live streams to its Amazon Music app
It's pretty funny because what's happening here is Twitch is melting with Amazon music.
Amazon music is going on Twitch, and they sponsored big names on Twitch like Logic the rapper, but I looked at the numbers and don't add up. Amazon music has only 70K followers as far as today, on twitch.tv, which is good, but for Amazon music, I mean, it's pretty low & if you look at the numbers, for example, the live with Nas, only 895 views.
I don't know what you guys are doing, but I don't know this shift to music instead of gaming. They seem to forget where they're coming from, and in branding, that's always a big mistake, a deadly mistake.
For example, the fact that they are closing Twitch Sings, I understand, because from a DMCA point of view, that category is a nightmare, but closing it like this, I don't know if it's the right move.
I don't know if there was an alternative; all I see is confusion about where they come from as far as branding goes. Maybe it's a really bad idea, how Amazon and Twitch want to integrate and want to get into the music segment of the internet's attention.
Youtube Striked Cr1TiKal & Markiplier after a troll on Twitter
So this gamer Cr1TiKal title video is: I'm mad
Because he got a strike by Youtube on an old video that was just a fake fun, like a joke about a road rage type of video but all made up, it was made up. If some human being genuinely looked at the video, that person could not be misled into thinking that it was anything else but a joke.
So, Cr1TiKal, as a troll, tweeted "what about Markiplier" because Markiplier back then made a video reviewing the fake road rage incident and Cr1TiKal trolled:
and Markiplier, also trolling, replied:
You know what? He got a strike too, watch his video:
Markiplier, probably the nicest man on YT, got a strike because they trolled on twitter.
So someone at youtube definitely took notice and said it was sorry and put back the video and all this but still.
If you're penalized by Google, if you got a strike by youtube and if you have some pool on social media, go all out, and it's the best way I know to fix this kind of issues; otherwise, it's totally unfair they are striking all over the place, and it's totally bots it's not even human beings.
And it's always scary when you depend on a website like YT to make a living, and you can be out of the game like that. One day you wake up, and you're gone. That's just one video, but your account could be banned, and we go back thinking about the Dr. Disrespect ban on twitch, which is also a very scary incident from a content creator point of view.
Facebook Watch, Youtube's competition, is showing very strong numbers
Facebook Watch Tops 1.25 Billion Monthly Viewers, Continuing to Ramp Up Challenge to YouTube on Variety.com
I had no clue that the youtube competitor from Facebook is doing so well. Firstly, it sounds a little bit like you're streaming on Facebook bc you are not cool enough to stream on twitch or YT. Well, it looks like a lot of people have their eyeballs on Facebook, and I'm definitely streaming on Facebook when I'm streaming. I'm doing youtube, twitter, periscope, and Facebook. Anyways, I'm very impressed by Facebook Watch.
Joe Rogan's podcast was missing some controversial episodes when opening up his channel on Spotify
Censored? Joe Rogan Experience is missing episodes on Spotify
Joe Rogan made a big deal with Spotify ($100M), not to come exclusively on Spotify. It was just for Spotify to use the content, and Joe Rogan could still do his thing and not like other platforms like twitch
or whatever who would say okay, you are coming with us, and you can't do anything else.
Joe was smart enough not to give up his brain to Spotify.
So what's happening is on September 1st, all the episodes of the Joe Rogan Experience podcast were supposed to be uploaded on Spotify, but some people noticed that 46 episodes were missing.
And what's interesting is it's Mikhaila Peterson who reported this.
She's the daughter of Jordan Peterson. Also, a very controversial figure and a little bit striking are that all the people, I mean the podcast ban, are pretty much like controversial people and most likely right-wing controversial. Joe Rogan is not a right-wing extremist at all. He's not an extremist in any way, shape, or form; he would be leaning towards a liberal point of view but not like far left but what he does
is he gives a voice to everybody. The most obvious one would be Alex Jones. Many people think that Joe Rogan is a right-wing extremist bc he's a friend with Alex Jones & he invited AJ on his podcast a few times. Well, it's not because you don't agree with someone that you can't have a conversation, or you can't invite that person on your podcast.
That doesn't make any sense, so now this is almost no news because what happened is very quickly Spotify uploaded the missing episodes, so Mikhaila reports that some episodes are still missing. Yet, in my opinion, Spotify, which is not hiding the fact that it's leaning towards the left very liberal well say okay, let's not upload this, they stink, and they got caught so quickly they uploaded them.
Google Ads is removing keywords from reports.
PPCRachel reports that google ads are making a change to the search terms report and might be hiding some keywords, which is a problem because you want to ban words you want to filter as finely tuned as you can you campaign. I'm pretty surprised because when you go to the SEO side, they don't give anything. Google trends are pretty much the only tool we have in the search console, of course, but when it comes to ads, they give you a lot of information, and I was pretty surprised by this, but why I don't know all I know is every time something is taken away as far as keywords go, it's always lousy news well that we'll figure it out, and it's not a big deal in the long run, but just you got to be informed, and you have to know that you will be missing some precious keywords on your reports
John Mueller from Google talks about Core Update Penalty Recovery.
I have to do this, dear googlers video, because the title says Google Offers Details on Core Update Recovery Times.
No, it's not Google; it's during a webmaster central office hours hangout that John Mueller from Google answered one question, and people make it like official Google. It's not because the community manager of google answers a google hangout that it's official news, so what's the deal here?
The deal is that when there's a core update, you make changes, and you have to wait until the next core update to see if the changes have a positive effect on your SEO. It's mostly the case with a manually-launched filter like back in the day's panda or penguin. Now it's refreshing non-stop and evolving non-stop, and we don't need to wait until the next core update. That's what John Mueller is saying. however, is that a rule like the general rule? Of course, not that's a total lie. You can't know that some core updates won't need a refresh for your website to see a change, so I'm pretty tired of it, and it's not john Mueller's fault; it is the way this type of websites are reporting the news is misleading. So yes, I need to make this video Dear Googlers asap.
Here we are to the end of the news. Thanks for your time and please, feel free to share your opinion about all this with me.
Listen to the podcast:
Watch the video
Latest Posts